Can you believe it is the end of February already? Rikki here with another Friday layout share, but seriously the end of February!!!
Today I am sharing with you a mixed media layout, more like a hybrid as it includes loads of layered flowers, fussy cut butterflies and gesso.
So to start just build put your background with some texture paste through a stencil... allow to dry, but if your like me and want to continue working on it this is where your
Alsion Ellis Designs Heat gun
will come into play.
Once its dry you will need to paint
Derivan Paints Gesso
all over the texture paste and you will want it quick thick, allow to dry. Also if you want your Molossi Chipboard Butterfly frame, white this would be also a great time to do that.
Then its time to spray your mist for your background colour I have used Ranger Dylusions in several colours.
Once it is all dry its just about the construction, the hardest part of me was cutting the photo so it sat in the frame, I just cut a circle the same size of the frame, onto some tracing paper, then used some washi to attach it on the photo and then cut the photo around the template. Don't forget to attach some X-press It Foam Mount under the photo.
Then its just a matter of clustering all my flowers on, around and under the frame, I also attached some of the fussy cut butterflies around the frame and the flowers.
Alsion Ellis Designs Heat gun
Derivan Paints Gesso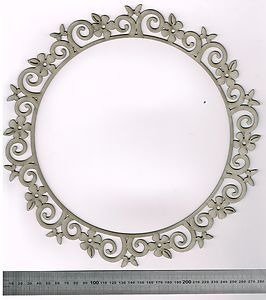 Molossi Chipboard Butterfly frame
X-press It Foam Mount
Manorhouse Creations Minuettes - Pink mix
FWAB Grace Pearl Flourish
Well that's all for today why don't you pop over to the
Molossi Store
and grab some of the art and chipboard supplies to start you own ''Hybrid" layout. xxxx